Classic Car Shopping Network
1928 Ford Model A Jalopy

Make offer

Owner: Moldy Marvin

Location, Littlerock CA

Questions Call 800-880-6567 or (661) 944-2299 Ask For Moldy
11/16/2012
"El Lay Mae"

"Moldy Marvin's" T&A

This old girl has some history and a story to tell.. Currently Registered in the State of California (on a non op)

Back in 2001 I found El Lay Mae at the L.A. Roadster Show, She was sitting all by herself in a corner at the swap meet.

I got her from dry lakes king Joe Moreno

Here is a snap of her once I got her home.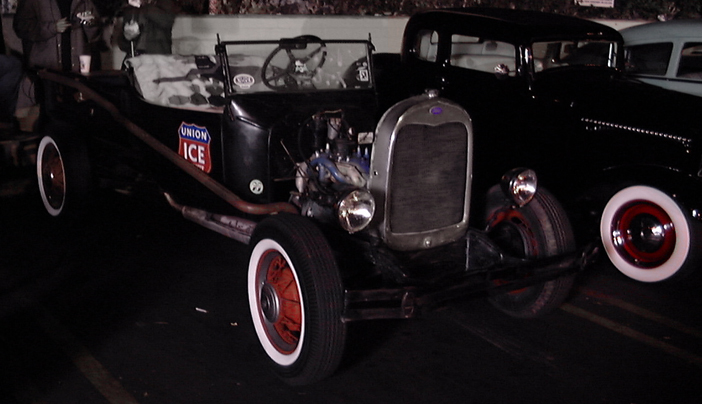 This is what she looked like after I had taken off all of the stickers and cleaned her up real good.
That there is the infamous John Parker cuttin' it up with the camera...

T

he guy in the hat is the well known auto artist Kent Bash

who

included El Lay Mae and I in one of his paintings.

This painting has been published in several magazine articles about Kent.

John, Richard, & George usin' the El Lay Mae's trunk fer a dinner table. Bob's Big Boy 2001

So What the heck is she anyway ? Well she's got 1928 Rails, Truck Bed and 4 banger Mill... The Fiberglas 23 T bucket was put on her sometime in the early 60's cuz it's all hand laid ... the side pipes are active and serve two purposes (1) to make a bunch of noise and (2) to serve as nerf bars and extra support for that old t bucket...... The Brakes are Mechanical and she tops out between 45 and 50 MPH...
In 2002 she won her first award at the Jewel City Kiwanis Car Show

The Award is for First Place Special Interest.

All Awards go with the Sale of El Lay Mae
2002 was also the first year that I started Racing El Lay Mae in the Antique Nationals .

Me and a Buddy of Mine Flintstone had a running bet of $ 1.00 every year when we raced side by side.

His car was very much like El Lay Mae and he called his car Ebay Elly

Photo by Jack Butler 2003 Antique Nationals

Flintstone Beat me every year that is until 2004.

All Awards go with the Sale of El Lay Mae

2004 EL Lay Mae and I in the winners circle Antique Nationals.

She was the slowest Car on the track at 25.5 seconds. In our last eliminations we went up against a beautiful 14 second board track racer worth about $ 40,000.0, El Lay Mae was so consistent that day and we took Jim Macnair Award 1st Place in the 4 Banger Class!

I Love Bracket Racing!
| | |
| --- | --- |
| El Lay Mae Loves to go to El Mirage | El Lay Mae, myself and Joaquin Arnett of the Bean Bandits |
In the summer of 2004 we shot this Desert Drag Race Segment. You can watch the segment about 5 minutes into the movie.

EL Lay Mae and Flintston's Ebay Elly.

El Lay Mae played the part of "Old Timer" (Voice by Alex Xydias) which was the first car in the movie to be interviewed.

The Movie Tales of the Ratfink took 6 years to produce, I worked on the film as a consultant to Ron Mann.

The Film can now be viewed on Hulu Just click the Hulu button below and enjoy the show!
El Lay Mae Today

Back in 2007 I swapped out El Lay Mae's mill with a 1930 4 banger because her original mill main seal went along with the babbit.

The 1930 Mill still runs but it too now needs Babbit too so I haven't driven her for awhile now.

EL Lay Mae's Original Mill Comes with the Sale

I recently acquired this 1929 Mill with a B performance police head.

This Mill comes with the Sale also.

I started Cleaning it up because it is in pretty good condition.

The Babbit is in great shape.

The concept was to take apart this most recent Mill tear it down and rebuild El Lay Mae's original Mill with the parts.
Other Fotos of El Lay Mae

Even though El Lay Mae might need a little TLC today, she has been very good to me for many years now. She is a keeper for sure and as much as I would like to hang on to her I really need to sell her cuz I need the $$$!

I'm really hoping that her new owner will feel the same way and treat her good for many more years of enjoyment!
El Lay Mae includes, all of her Awards and 2 additional 4 banger donor engines pictured above along with her tow bar and Truck Bed Side Panels.

I'm Was Asking $ 7,000.00 so make an Offer!

El Lay Mae is truly part of California's Gold!

We can provide you with more photos please be specific when requesting them, if you live in Southern California
and would like to take a look at her, Please feel free to email us at moldy@ratfink.org with your return email address
and or phone number and we will email you a response or you can call (800) 880-6567 Ask for Moldy

Terms: Car is sold AS IS WHERE IS WITH NO WARRANTIES OR GUARANTEES.



We will assist in coordination of shipping but buyer must pay all shipping costs, tax and licensing for their state.

Thank you,

Moldy Marvin

800.880.6567 or (661) 944-2299

Classic Car Shopping Network