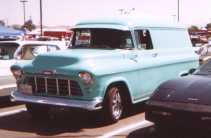 WOW!!! 1956 Chevrolet panel truck, 350, fresh 400 tranny with Lokar.
New motor mounts, water pump, starter, rear gear, drive shaft rebuilt
gauges new springs and shocks. am/fm cd player, alarm, radar detector
and has tow package. Sea foam green with a black int. No rust and A
vetran of many rat fink shows! Roths sez" It's the Birds man"
$ 12.000
obo.
#JH9242295545/090300