August 1
Sacramento, CA "California Auto Museum's Big Event on the Road"
On Tuesday, March 31st the Towe Auto Museum officially became the California Automobile Museum. For over 20 years, the Towe Ford/Towe Auto Museum has been educating and entertaining audiences with beautiful and interesting automobiles. A significant part of the history of the Museum was the arrival of over 100 Fords from the collection of Edward Towe. Without the collection, the Museum would most certainly not be in the position it is today. Times change, however, and the Museum no longer houses the Towe Collection. We now exhibit a much broader collection of vehicles, telling the history of the automobile from the late 1800s to electric and hydrogen vehicles of the future. Our new name represents the culmination of many years of hard work by our board, staff and volunteers. Our mission remains the same – to educate and entertain while preserving and promoting the automobile and its influence on our lives.

With the new name, the Museum will see many new and exciting changes over the next year, including the recent hiring of the Museum's first-ever curator, launching of a brand new website, and the introduction our 1st annual car cruise, CAMBER: "California Auto Museum's Big Event on the Road" to be held on August 1 (more details to follow). "We hope you will share this exciting news with the community and join us as we embark on the next 20+ years continuing the tradition of being the center of the city's car-related entertainment! If you can't make it but want to show you were thinking of us you can send flowers or a card .
For more information go to: www.calautomuseum.org
August 8th & 9th 2009
Pearblossom California
Moldy Marvin's
Doin' It In The Dirt, Camp N' Cruize !
Free For All for 2009!
Click Here for More Information!
August 15th-16th

ANRA Summer Nationals

Auto Club Famoso Raceway
Bakersfield, CA.
Click here for More Information
SAT, August 29, 2009 Point Loma Masonic Center
1711 Sunset Cliffs Blvd. San Diego, Ca
60th ANNIVERSARYBean Bandits
Reunion and CAR SHOW
10:00 AM - ?
Click Here for More Information!
August 30, 2009 Sheriff's station in the City of Lynwood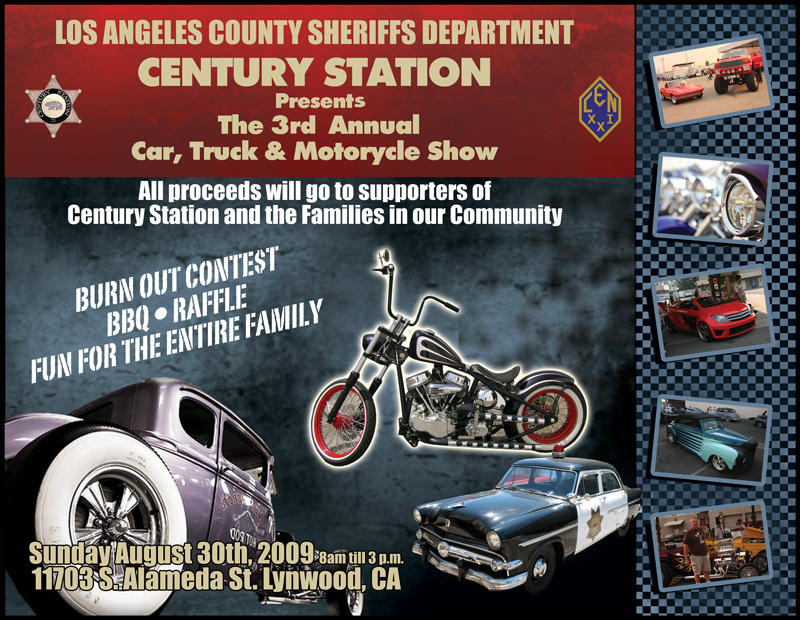 Contact Azam Flores, via e-mail for more information AFlores@lasd.org