1969 Mach I Mustang

I have a strange story. I am in the Army, and about six years ago I was stationed in Hawaii, on the island of Oahu. I had a Candyapple Red '69 Mustang Mach I. Right before I left the island, the transmission and other parts were stolen out of the trunk, (I was working on the engine). Since I couldn't ship the car when I left, I had to leave a power of attorney with another soldier in my unit. He took the car to a mechanic. The mechanic sat on his butt for a long time, and didn't do anything about fixing my car. I arranged to have the car shipped, and told the mechanic to have it ready. The shippers went to his house, and he didn't have the car ready.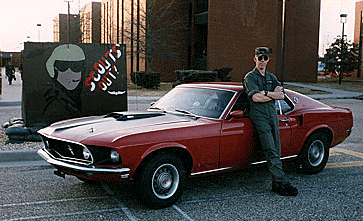 I called the Hawaiian PD and they said that the car was no longer at the mechanic's house.
I have been unable to retrieve the car until recently, and I am now trying to get my car back. I love that car!

Here are the details: VIN - 9T02S117525 (I still have the title) ... Candyapple Red 1969 Mach I Mustang

390 engine with an Edelbrock Performer intake manifold and matched Edelbrock Cam
There are holes cut in the front shock towers so that the owner who had the car before me could get to the spark plugs easier

There are many more details, but again, since it's been 6 years, I don't know what might have been done to the car. I am willing to give a sizeable reward if I get my car back.

Thank you very much for any help you can give me. Sean McCafferty My phone number is 337-535-9203

$ 2000.00 Reward
1964 Chevy Impala SS: The Vehicle Is Red Pearl in Color, the Roof Is in Primer, it was a restoration project that got put on hold. The Wheels are matching Red Pearl ET's Inside with Chrome Outer Ring, the car was stolen with no chrome or bumpers, only the grill was in place. The 409 was high performance with 2 four barrels, it had an eight ball drilled out for a shifter and it has a rare silver interior. We are in Calgary, Alberta Canada, the car was unregistered and stolen through 2 chained and barb wired fences with so called unbreakable locks. The car was completely tarped and a complete car and 318 big block were blocking its path.
We are offering a $2000 reward for help leading to the Arrest and Conviction of the People Responsible
and any help would be greatly appreciated. We really want this car back and would really like to know who did this. We can be reached at (403) 255-7818 or e-mail will be faithfully checked. Thanking you in advance for your help Ken & Lila Stewart at K&L Auto Body in Calgary, Alberta

If you have any information Please Email:Ken & Lila