The Tom Daniel Story
Tom Daniel an industrial designer by trade, is probably one of the most popular model designers around. With over 75 of his designs being manufactured as scale model kits! With most model kits the real car comes first but not with Tom's designs.
Tom's interest in automobiles developed at an early age. Tom a native of California, grew up in the Huntington Park, California near Los Angeles after WW2 when hot rodding was staring to grow by customizing cars. Hot rods were becoming an important part of the American automotive scene especially in Southern California. At the age of 11 Tom, became influenced by chopped and channeled customs, raked '32 and '34 Fords cruising the LA streets and made up his mind that he wanted to design custom cars.
In his junior high school Tom went on a field trip to the Art Center College of Design in Los Angeles, there he saw drawings of futuristic vehicles hanging in the galleries of the college which were similar his ideas. After seeing the student drawings in the studios and making clay mock ups of those designs in the college shops, Tom wanted to attend the college, no matter how hard of difficult it would be. Tom's love for cars proved to be annoying to some of his early high school teachers. His written assignments almost always ended up as hot rod drawings. Tom's goal for his future was to be a designer for General Motors. Art became his major so he could spend time drawing and coming up with new designs and ideas.
In Tom's senior year of high school, he spent most of his time drawing and creating a portfolio to submit to the Art Center. Tom was accepted at Art Center and attended for four years, the course was very demanding the cost of materials were very expensive. Tom earned a scholarship from the Ford Foundation which helped his financial situation. A friend of Tom's that worked for Petersen Publishing's Rod and Custom helped him get some sideline work after the editor saw some of his designs. Out of 80 students that enrolled, Tom and 13 others graduated in 1955. At the age of 23 Tom and four others from his class found immediate employment as industrial designers with General Motors. Tom was hired to work in the "Advanced Transportation" department at GM where they were designing futuristic looking trucks and machinery. At GM Tom designed the hood he for the 1962-66 Chevy/GMC trucks. He then designed the classic S'cool Bus model for Monogram, Tom based the bus design around the "62-66" GMC truck design so he could include his hood.
Tom left GM in 1961 after being there only a year and went back to California, Tom never returned to GM and decided to become a model enthusiast and designer. Tom got together with Rod and Custom once more, Rod and Custom had just started a new magazine called "Rod & Custom Models'. Tom became a columnist that wrote a monthly design feature called "Off the Sketchpad", Tom wrote the column for almost nine years. The 60's slot car craze was happening, and Monogram would send out products to be reviewed by the several publications at the time. Tom wrote some of these reviews and realized that some of his "crazy" car designs would make great model car kits. In 1967 Tom got in touch with Monogram, co- owners Jack Besser and Bob Reder, noticed Tom's work in the Off the Sketchpad column. Roger Harney, who has been with Monogram since 1957 was the Model Shop Supervisor. He and Bob Reder came up with the idea of producing a custom Mack truck. They gave the idea to Tom and he came up with "The Beer Wagon" which to date is still being produced and has sold in the millions, interesting enough Monogram has re-released the model as the Soda Wagon. Tom was then contracted as an exclusive Monogram designer and consultant and was allowed the independent freedom of creativity.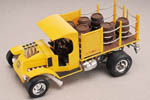 "The Beer Wagon / RC Cola Wagon"
The Red Baron became Tom's second design and is probably one of the best selling model car kits in history of Monogram. Released in January 1968 as kit number PC-205 with a custom sized box, later, in August of the same year, a bonus was added to the kit: a miniature Fokker Triplane Model. Tom's original box art illustration for the Red Baron depicted a Fokker in the background. The model was repackaged as kit number PC-212 and released.

"Li'l Red Barron"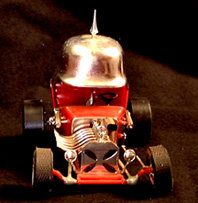 "Original Red Baron"
Courtesy Johnny LaMonte Eagle Rock, CA
For a short time, Mattel owned Monogram, and the Red Baron Hot Wheels car was included in the kit. Kit number 6050 would indicate a kit containing the Hot Wheels car. By 1973, the kit had sold over 2,000,000 copies. The "Big Red Baron' model kit produced in January 1969 in 1/12 scale was another product released because of the popularity from the first model kit. This kit included the same miniature Fokker Triplane and a small skull wearing a German spiked helmet.
Decal Placement from 1997 Re-issue Showing Fokker Triplane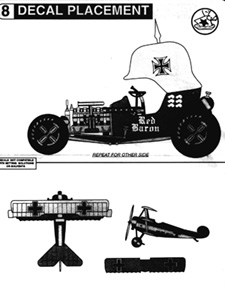 Then, that Bob Larivee of Promotions, Inc., approached Monogram with a proposal to build a full size Red Baron Roadster. With Monograms blessings the car was then built by Chuck Miller of Styline Custom in Michigan. The car cost $10,000.00 to build at the time and features a stock 1968 Pontiac OHC 6-cylinder engine and a Pontiac automatic transmission. The car won The Oakland Roadster Sweepstakes that year. Two other Red Barons have been built by Jay Orburg since then.
"Red Baron"

Built by Jay Orburg

"Red Baron"

Built by Jay Orburg
Tom ideas for the Red Baron came from surroundings of the time. The "surf craze where surfers were wearing chromed German helmets while surfing and there was a big "T" movement happening. There was also a very popular song that was being played on the radio at the time called the "Bloody Red Baron of Germany" or it was called "Snoopy and the Red Baron". The model featured a version of a 1914 in-line 6-cylinder Mercedes Benz aircraft engine that was used in the Fokker airplane with a six pipe exhaust header, and a iron cross radiator.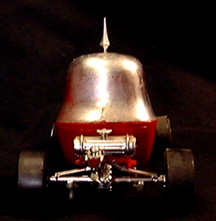 "Original Red Baron"
Courtesy Johnny LaMonte Eagle Rock, CA
| | |
| --- | --- |
| | The model shown here was from one of the first production runs, you can tell because the chrome on the large helmet was very transparent where the red plastic would show through. |
I remember my Red Baron Model, I was about 8 years old and the model was coming out to be my best yet. I had a real hard time getting the helmet to stay on the car, I would glue it and come back and it would fall over, then I would glue it again... sorry to say I did not have the kind of patients that I do now, I finally got fed up with it after trying to glue it several times and used it to play car crash with. I purchased a second model when shortly after that and was a success. I also built the The Beer Wagon and Pie Wagon I wish I still had them today.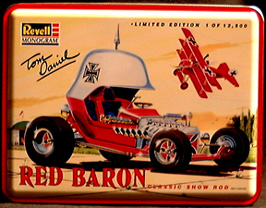 Re-issue Red Baron Collectors Box 1997, Only 12,500 were made Kit #85-4110
Tom became one of the top designer for Monogram, he working from his home in California and produced dozens of model kits. These kits included the Pie Wagon, Thunder Bug, Roarin' Rail, the Dragon Wagon, Tijuana Taxi and Bad Medicine,motorized Super Digger and Mean Maverick. Tom Daniel's' creations have become classics and favorites with model builders world wide.
| | | | |
| --- | --- | --- | --- |
| "Fake Out" | "Street Fighter" | "Stinger" | "California Street Vette" |
| | |
| --- | --- |
| "Pie Wagon" | "Fire Iron" |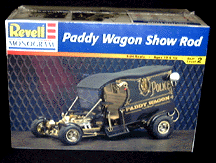 "Paddy Wagon"
Story Acknowledgements: John Greczula, Ontario Canada
&
Moldy Marvin Webmister
You Can Now Purchase Tom Daniel's classic models from ratfink.org They have a limited stock on hand.
Last pricing and stock up date 01/22/04
| | |
| --- | --- |
| Fire Iron / Issue Date 1997 | # 7530 Currently Sold Out |
| Beer Wagon / Issue Date 1998 | # 85-2453 Currently Sold Out |
| RC Cola Wagon / Issue Date 1998 Deluxe Kit comes with glue, paint and brush | # 85-6668 $ 24.00 each + S+H |
| Pie Wagon / Issue Date 1998 | # 85-2498 $ 24.00 each + S+H |
| Paddy Wagon / Issue Date 1998 | # 85-2733 Currently Sold Out |
| | |
| Red Baron Limited Edition 1 of 12,500 In Tin Box / Issue Date 1997 | # 85-4110 Currently Sold Out |
For Ordering information go to our contact page
We accept the following credit cards

We have provided a link to Revell/Monogram's website below. Please book mark our site before you leave.
Happy Modeling,
Moldy Marvin / Webmaster