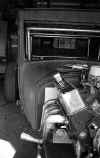 Zoomie Weed Burner Headers

Mark cuttin' brackets with the plasma cutter.

Cock Pit.

The 9" Rear came out of a Merc Wagon, check out the height adjustment mounts.

Edelbrock Manifold Holly 700 Carb. Joe the Decon and Darryl the Saint donated the shocks, the holly and the right hand door.

Mark Weldin' mounting brackets.